You must agree with the terms and conditions specified in this link before downloading any material from the Kreiman lab web site. Downloading any material from the Kreiman Lab web site implies your agreement with this license.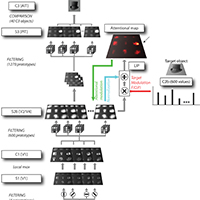 Work to cite in connection with these data:
Thomas Miconi, Laura Groomes, Gabriel Kreiman. There's Waldo! A Normalization Model of Visual Search Predicts Single-Trial Human Fixations in an Object Search Task. Cerebral Cortex 2016.
Code [29M]: contains the main model + code/images for performance tests
Data [7.1M]: contains the code for model/subject comparisons; also contains the data from the psychophysics visual search experiment, in `subjects/subjectsdata